Not all of you may be familiar with this divine confection of crackers, crispy toffee and chocolate, but it has been revealed to be THE MOST ADDICTIVE SUBSTANCE ON THE PLANET.

And how could one improve upon perfection? Regrettably, into my devious little peabrain popped an idea. Just days before, I had seen THIS: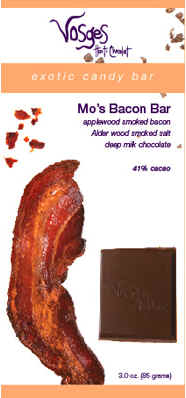 Bacon Exotic Candy Bar - New
Applewood smoked bacon + Alder smoked salt + deep milk chocolate
Deep milk chocolate coats your mouth and leads to the crunch of smoked bacon pieces. Surprise your mouth with the smoked salt and sweet milk chocolate combination.
Crisp, buttery, compulsively irresistible bacon and milk chocolate combination has long been a favorite of mine. I started playing with this combination at the tender age of six while eating chocolate chip pancakes drenched in maple syrup. Beside my chocolate-laden cakes laid three strips of fried bacon, just barely touching a sweet pool of maple syrup. Just a bite of the bacon was too salty and yearned for the sweet kiss of chocolate syrup. In retrospect, perhaps this was a turning point, for on that plate something magical happened: the beginnings of a combination so ethereal and delicious that it would haunt my thoughts until I found the medium to express it--chocolate. --Katrina
Now, those folks at Vosges pretty much know what they're doing, and in a flash it was obvious to me that if crack alone could make you feel considerably better, then adding bacon to crack would DAMN NEAR RAISE A BODY FROM THE DEAD!

Now there is a layer of crispy bacon bits hiding between the crunchy toffee and the smooth chocolate blanket. Don't you know that I just happened to have some smoked-salt flakes to crush for decoration? It was like my hand was guided and my thoughts inspired.

Here is how to make your veryown Bacon Crack!™:
4 oz club crackers
1-1/2 cup butter
1-1/2 cup dark brown sugar
1 package (12 oz) semisweet chocolate mini chips
2 cups freshly-cooked crispy bacon bits
Smoked salt flakes, for garnish
Preheat oven to 400 degrees.
Line a jelly-roll pan with silicone coated foil, then cover bottom of pan with crackers in single layer.

In a saucepan, combine sugar and butter. Bring to a rolling boil for 3 minutes. Immediately pour over saltines and spread to cover crackers completely.

Bake at 400 degrees for 5-6 minutes. Remove from oven and sprinkle bacon bits evenly all over the top, then repeat with chocolate mini chips. Let sit for a few minutes, then smooth the softened mini chips with the back of a spoon ever so lightly to camouflage the bacon bits. Sprinkle with a bit of crushed smoked salt flakes.

Cool completely and break into pieces.



I know what it sounds like. Just do it. You'll thank me later, right after you sell your children to get more of the stuff.