Dashboard Dining, Part II
Being that today was another fine moderate day (with a high of only 114 predicted, later revised to 116, those big cheaters), the urge overcame me to blow off today's entirely inconsequential errands and focus instead on more warm-weather entertainment, i.e. the second installment of Dashboard Dining.

Following the success of the dashboard egg, I determined to move on to something bigger:

Car-Cooked Chicken En Papillote

Today's adventure in automotive cuisine starts with chicken breast tenders.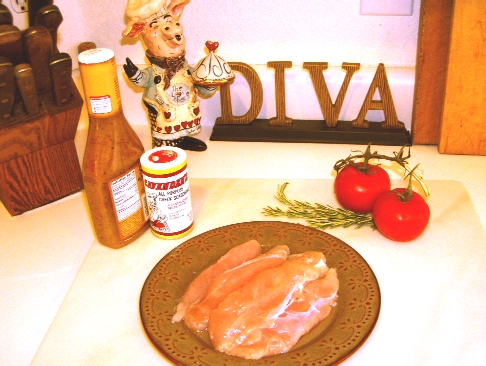 The tenders are placed on foil, seasoned with Cavender's Greek Seasoning and a few spoonfuls of herb and garlic marinade, and topped with a little vegetation to add color, moisture and flavor.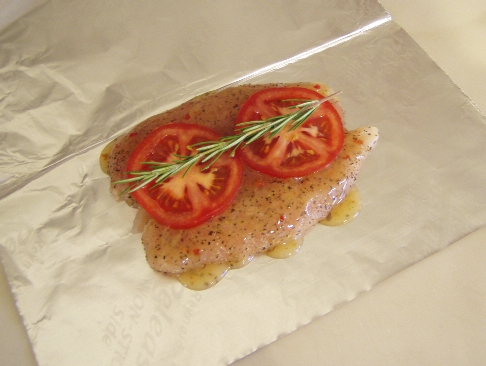 The foil is folded over, and the edges carefully sealed with a quarter-inch trifold to keep all the steam and flavor in.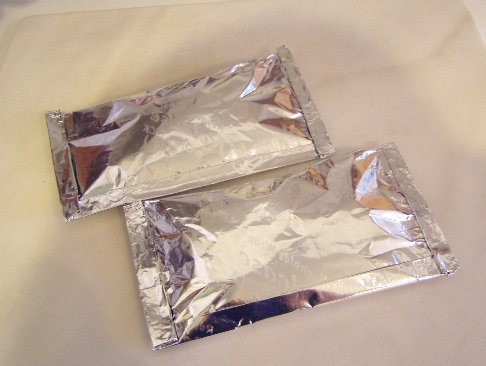 According to the USDA Food Safety and Inspection Service, most slow cookers utilize temperatures between 170° and 280° F.

At 11:30am, I figure the FPOGE's (Fine Piece of German Engineering's) internal temp of 190° F means we're good to go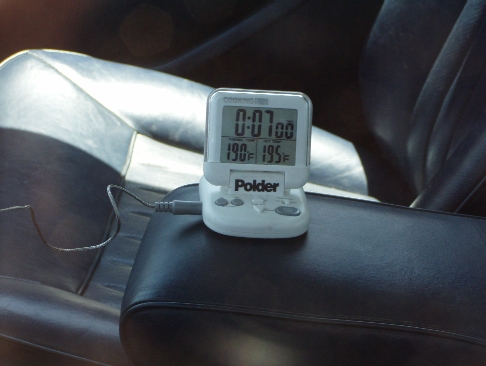 and the papillotes go onto the dashboard next to the thermometer probe.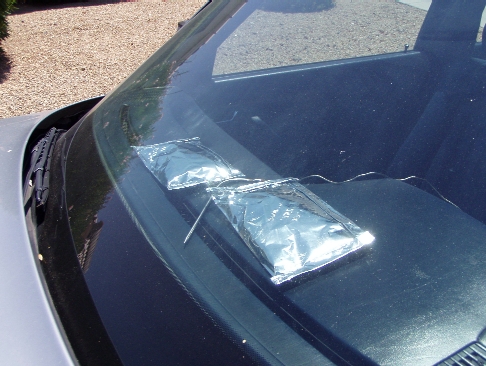 The hard part is waiting. I figured I'd give them four or five hours, or pull them when the temperature starts to drop, whichever. At 2:30 I went out to check on them, and the thermometer display unit had gone all deranged from the heat. I opened the door to fetch it out, and I have to say it smelled pretty good in there.

At 4:30 I imagined it had got to be done, and went to fetch the papillotes. Such a shame I forgot to take a potholder so I could open the #$%&@!! car door.

Once opened, the papillotes gave off some crazy steam, and the fragrance brought little Dammit clamoring into the kitchen for a taste.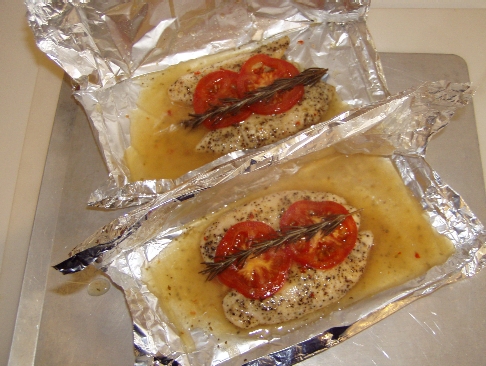 The verdict: Tender, juicy, full of flavor. Dinner is served -- and don't forget to tip your valet parking attendant.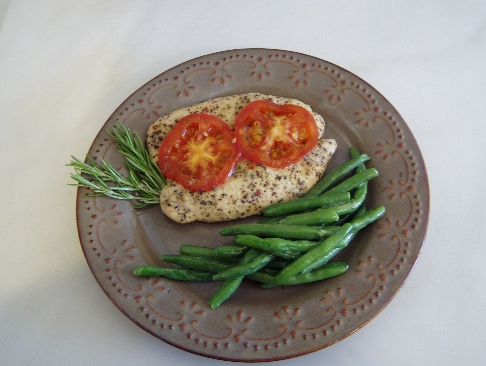 Where's dessert? You know subsequent adventures include a coffeecake,
and the final edition of Dashboard Dining.
ALL MATERIAL COPYRIGHT © 2004-2016 ALEXA IVOIRE FAIRBAIRN ALL RIGHTS RESERVED